These are Long Guns and accessories from various manufacturers.
If you have any questions click on the E-mail link.
Click on any image for a larger view.


This is a variation of the famous Heckler and Koch G3 main battle rifle. This variant is designated G3k and was originally designed for the elite British SAS. The k in the name stands for the German word kurz, which means short. The barrel on this rifle is only 12" long. The rifle may also be switched to a collapsible stock in under one minute to produce an even more compact firearm.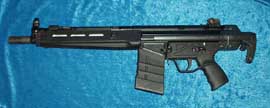 The select-fire G3k is capable of delivering 7.62x51 firepower at over 600 rounds per minute. This fixed stock has been modified to increase the cyclic rate to 720. This firearm has an "SEF" trigger group.
S= Sicher (tsichaar) 'Safe'
E= Einzelfeuer-- (Ine-tsell-foyer) Literal translation is 'single fire'. Semi-auto in English.
F= Feuerstoß (pronounced foyer-schtoss) Literal translation is 'fire blast' or full automatic in English.
An alternate English explanation is:
S= Safe
E= Economical
F= Fun
H&K also produced a sub-caliber kit that allows the rifle to shoot economical 22LR. The kit contains a new bolt, a barrel insert, two magazines painted gray to avoid confusion with 7.62 mags and a cleaning kit. The supplied instructions are in German. Set up of the kit is accomplished with no tools in a mater of minutes.

This is a commemorative Winchester model 94 called Legendary Lawmen. Created by Winchester in 1977. The firearm commemorates four Legendary Lawmen, Isaac Parker, Roy Bean, Bat Masterson and Wyatt Earp . The receiver is engraved and antique silver plated. The barrel bands are also silver. The stock is exceptionally well figured and has the commemorative medallion inlaid in the right side of the stock. The barrel is 16" Trapper length and the firearm is chambered for 30-30. Winchester also produced matching ammunition.
This is an 1892 Saddle Ring Carbine chambered for 357 magnum. It has nice wood and a factory engraved receiver.
This is a Marlin 1894 Custom Cowboy Limited. This one has a heavy 20" octagon barrel and is chambered in 41 Magnum. The barrel has traditional Ballard type rifling. The rifle has a straight stock that is un-checkered.

This is a Henry Golden Boy. This is a current production lever action with a solid polished brass receiver. The rifle has a brass butt plate and an octagon barrel. The rifle has a wonderful old fashioned look and is chambered in 22LR.

This is a Browning BLR (Browning Lever action Rifle) chambered in 308 Winchester. This unique lever action rifle utilizes a rotating bolt to handle the high pressure cartridge. The 4 shot magazine is removable.

This is a pair of carved African Ivory grips for the 1911 pistol that has Madagascar Rosewood inlaid in the grip. They have great color and wonderful scrollwork. These grips do not have a home yet.

The firearms pictured on this page are not actively being offered for sale.
Mark Calzaretta
Certified Firearms Instructor
Endowment (Life) Member NRA
Life Member NAHC
Member LEAA
SWCA #1597
SASS #42026 "J.R. Swackhammer"
To send me a message, click here

This page contains copyrighted materials. All photographs are the property of Mark Calzaretta and may not be used without express written consent.