2003 Sport Hunting & Outdoor Trade
Show
If you have any questions click on the E-mail link. Click on any image for a larger view.
The 2003 SHOT show brought many new and unique items to the marketplace. I will touch base on a few of them that really caught my eye.
Nice bit of news from Colt, the legendary Colt 1873 Single Action Army has been reduced in price. The old MSRP of $1,999 has been dropped to $1,380. While still expensive, the SAA is at least a little closer for some of us.
Taurus USA has introduced many new firearms this year. The first to catch my eye was a new series of pocket revolvers. Following up on last years introduction of the very fine CIA series of internal hammer revolvers is the NEW Protector series of revolvers. These are concealed hammer revolvers similar to the S&W Bodyguard or Colt DS and Agent with the factory shrouds. Available in 38 Special and 357 Magnum the Protector is offered in a wide variety of construction and finishes ranging from blue and stainless versions weighing in at 25 ounce to the 15 ounce Ultralite Titanium. Naturally it is also offered in my personal favorite, Total Titanium.
Taurus also has thrown their hat into the 17 HMR pool. Not with just one or two offerings, there were 10 revolver variations, an autoloading pistol, 4 pump rifles and carbines and 2 autoloading rifles. Yes 17 variations of firearms for the 17 HMR.

Big news came when Smith & Wesson announced "The Worlds Most Powerful Production Handgun" the 500 S&W Magnum. Pictured at the right the upper cartridge is a 325 grain JHP, the bottom cartridge is a 440 grain FMJ. The small round pictured between them is a 265 grain 44 S&W Magnum. Chambered in the new X-Frame, the fist two variations will ship at the end of March. The production revolver is an 8 3/8" with compensator weighing in at 72 ounces.
The Performance Center will also offer a 10 1/2 hunting version. 3" and 5" variations were rumored and I did get to handle the 3" revolver. A 5" would make a wonderful backup piece for a dangerous game hunter.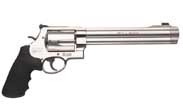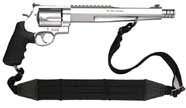 Also new at S&W were two revolvers for the 17 HMR. A production model 647 will be available with a 8 3/8" barrel. There is also a Performance Center version with a radical looking 12" fluted barrel. Then there is the new 4" 329PD, a full sized 44 magnum N-frame constructed of Scandium and weighing only 24 ounces. The new S&W 1911 was also on display. The Performance Center also showed many new offerings for this year.
Beretta was showing off their new line of Stampede revolvers. The samples on display were of fine quality. Offered in blue, case colored and stainless steel, chambered for 357, 44-40 and 45LC, there is sure to be one suited for the Cowboy in all of us. Beretta also showed new versions of their pocket auto pistol made with titanium.
Kel-Tec has come out with a tiny autoloader hardly any larger than their P32 but chambered for 380 ACP. The new model P3AT is sure to be a hit.
The fine Puma model 92 lever action rifles are back and in force. Puma was showing all of the standard chambering in blue, case colored and stainless with round or octagon barrels. Then they have the big boys, lever guns in 454 Casull and 480 Ruger.
The folks at Henry had some new brass framed Big-Bore lever guns on display. These are finely produced firearms that function as good as they look.
In addition to one of the largest most powerful auto pistols ever built, Wildey Firearms had some unique wildey autoloaders on display. They were made for Colt in 2000 and had complete Colt markings. 11 of these will be going on auction soon.
Mark Calzaretta
Certified Firearms Instructor
Endowment (Life) Member NRA
Life Member NAHC
Member LEAA
SASS #42026 "J.R. Swackhammer"
To send me a message

This page contains copyrighted materials. All photographs are the property of Mark Calzaretta and may not be used without express written consent.